Howls of the Sirens – Part II
September 22 @ 7:00 pm

-

11:00 pm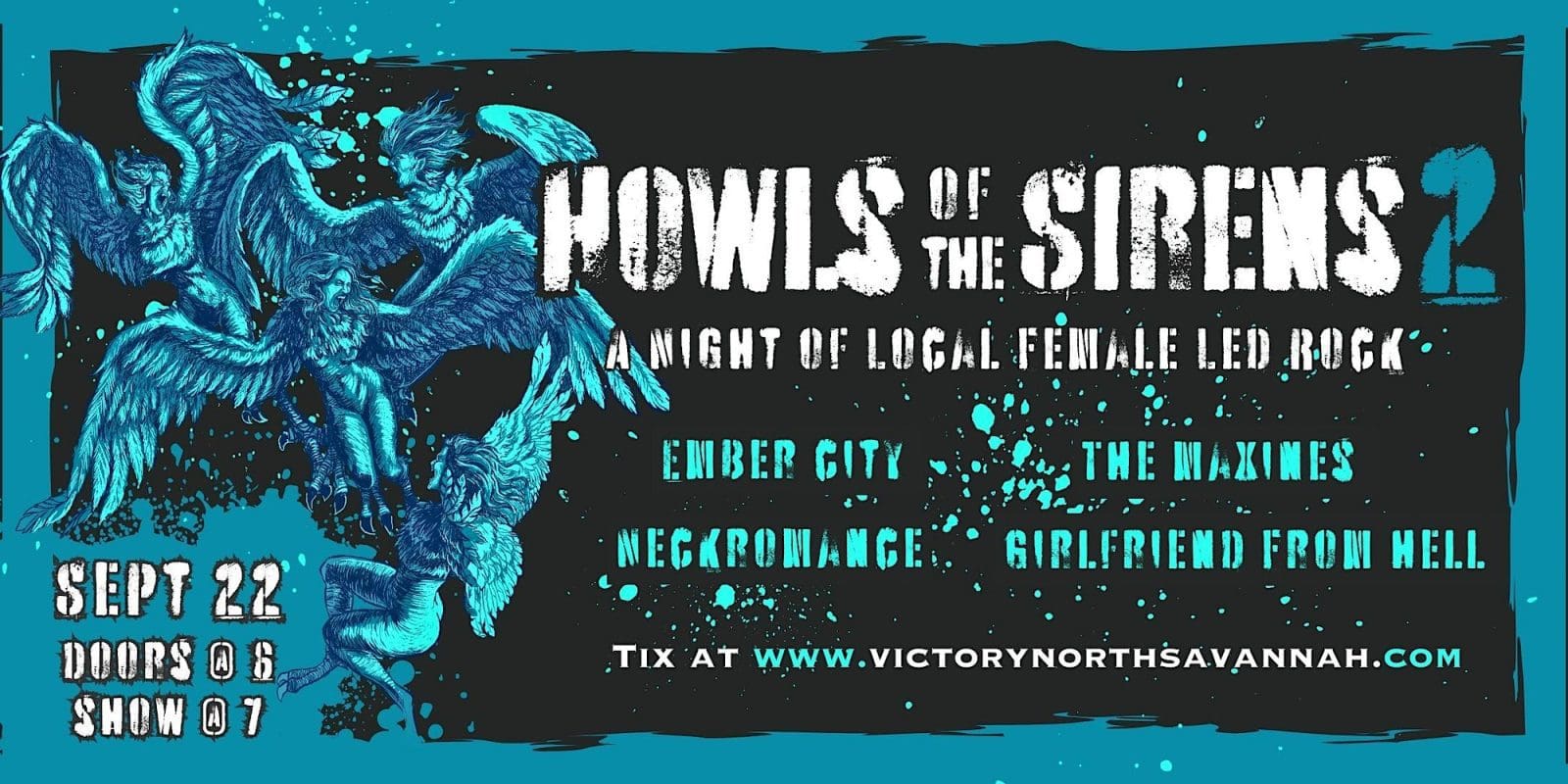 Experience an enthralling spectrum of rock wonderment with the best female-fronted rock bands in Savannah, GA.
Come hear the raw, punk energy of The Maxines; the heavy, dreamo rock of Neckromance; the unapologetic grit of Girlfriend from Hell and the alternative grunginess of Ember City! You can't miss this epic night of rock!
A special thanks to The Rail Pub, Moodrights, Scofflaw Brewing and The Draft Room for your sponsorship of the event. Without these folks none of this would be possible!
BAND BIOS
Neckromance
Neckromance is a four-piece heavy dreamo band from Savannah, Georgia. Featuring Derek Callen on bass, drums, and guitar; Jake Seres on bass and guitar; Chris Felo on drums and bass; and Ava Foster on vocals. Neckromance combines heavy metal and dreamy alternative rock, rooting itself in the idea that no matter how hard life gets, you can always "resurrect yourself."
The Maxines
The Maxines is an all-female rock band based in Savannah, Georgia led by AJ Grey on vocals, with Veronica Garcia-Melendez on bass, and twins Coco and Maddie Oke on drums and guitar. Their sound fuses grunge and alternative metal with swoon-worthy guitar riffs, angsty lyrics, and moody vocals paired with energetic performances that will leave you hypnotized.
Ember City
Ember City is a three-piece rock band steeped in '90s grunge flavor and modern alt-rock sensibilities. The band's primary members are Sarah Poole on bass/vocals and Ryan Taito on guitar/vocals. With a penchant for fuzzed-out guitar riffs, chuggy bass, and sweeping drums, the band's sound contrasts sultry with high energy.
Girlfriend from Hell
Straight out of Savannah, GA, Girlfriend from Hell is a 4-piece queer riot grrrl band, here to dismantle the cistem one sick riff at a time. Described as glittery and feral brat punk, Jaida, Natalie, Kate, and Alix provide fast songs accompanied with hard hitting and sassy lyrics. The core of the band originated from political activism. Here we preach that everyone deserves to be treated equally regardless of their identity, and most importantly, to honor your rage.