Virtual Lecture Series: Conversations on Georgia's Environmental Histories
July 22, 2021 @ 7:00 pm

-

December 31, 2021 @ 10:00 pm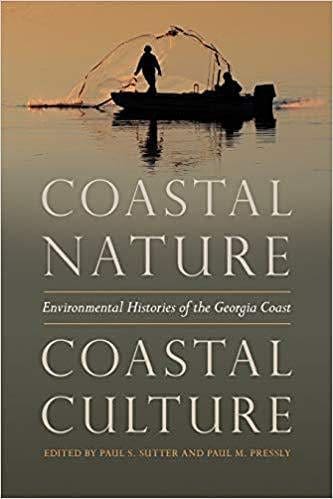 Enjoy a six-part lecture series by leading environmentalists, historians, and writers of coastal Georgia for any donation amount.
For more than 5,000 years, Georgia's 100-mile coastline of beaches, barrier islands, saltmarsh, and maritime forests has been home to human communities who have influenced and been influenced by the coastal natural world: Guale and Yamacraw Native Americans, Spanish explorers and missionaries, English colonists and plantation owners, enslaved Africans and Freedmen, northern industrialists and vacationers, writers, artists, musicians, and many others.
You will be sent a link and you can watch at your leisure.
Why Does the Georgia Coast Matter?
Paul Pressly, Director Emeritus of the Ossabaw Island Education Alliance, introduces the "big ideas" behind Georgia's coast and the environmental, geographical, historical, and cultural characteristics that set it apart from the remainder of the American coastline.
St. Catherines Island: A View of the Coast
Royce Hayes, Retired Manager of St. Catherines Island, discusses revelations from archaeological discoveries on St. Catherines Island in Liberty County, based on academic research and his more than four-decade career as the island manager.
The Tragedies of Ebo Landing
Dionne Hoskins-Brown, Director of NOAA programs at Savannah State University and Chair of the Gullah-Geechee Cultural Heritage Corridor Commission, examines the singular historic event of St. Simons Island's Ebo Landing. An act of defiance in 1803 by a group of newly enslaved African people determined to control of their own destiny helps define the Gullah Geechee culture of the Georgia and South Carolina coast.
The Rhetoric of Ruin: Coastal Georgia Plantations in the Early Twentieth Century
Paul Pressly, Director Emeritus of the Ossabaw Island Education Alliance, looks at the "Ruined South" as a tourism trope in the early twentieth century—both in the imaginations of vacationing northerners in coastal Georgia and in the hearts of Jim Crow-era southerners.
Preserving Georgia's Coastline for Fifty Years
Clark Alexander, Director of Skidaway Institute of Oceanography and Trustee of the Ossabaw Island Foundation. Fifty years after the passage of the Coastal Marshlands Protection Act, Clark Alexander offers analysis on its merits, its drawbacks, what's changed, who has benefited from it, and what the future holds.
"The Place Where Water and Land Meet": Writing and Reading the Coastal Georgia Story
Jane Fishman, Savannah Morning News columnist and author of The Woman Who Saved an Island
The Georgia coast as her muse, Jane Fishman talks about writing about the coast: her own writing, her connection to Ossabaw and Tybee islands, and the works of other writers she loves.