Ossabaw Island "Tintype" Photography four day, three night workshop
January 13 @ 3:00 pm

-

January 16 @ 12:00 pm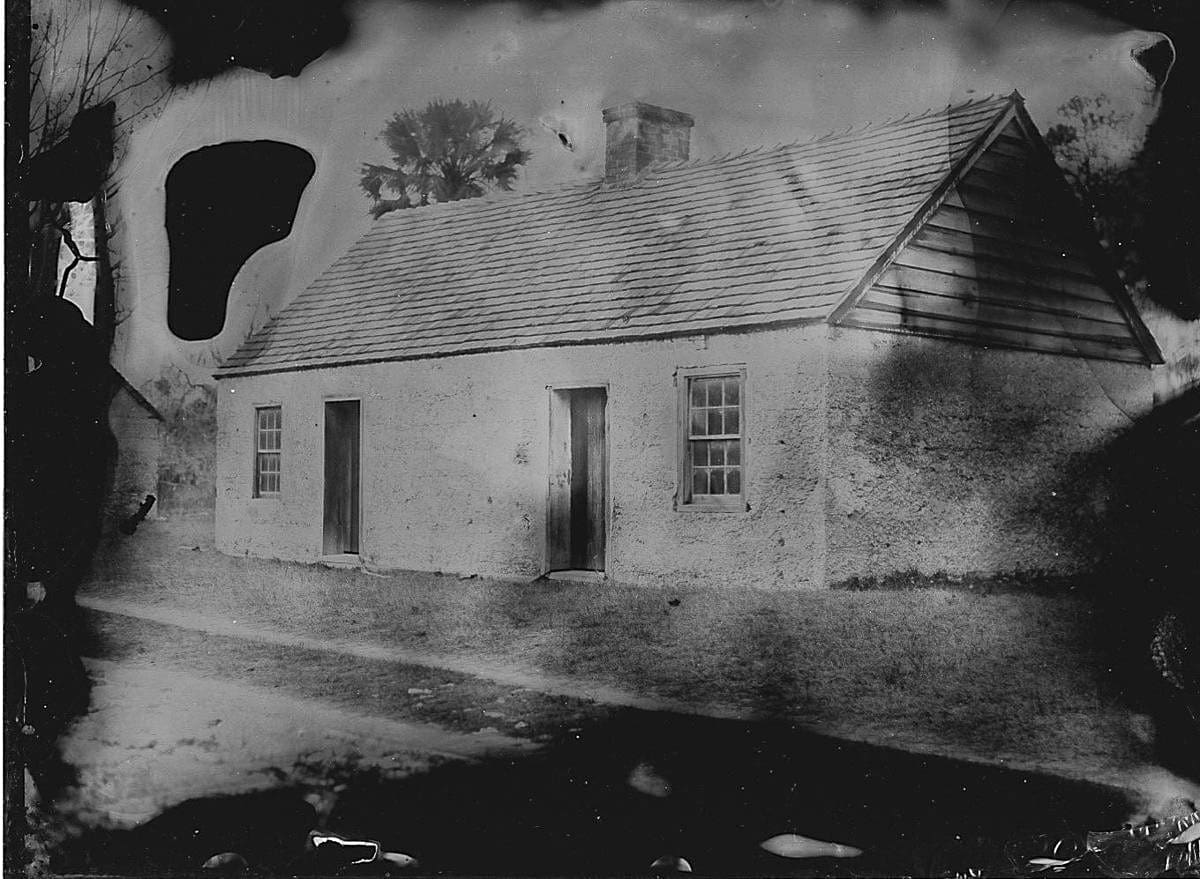 Spend January 13-16, 2023 on Ossabaw Island! Spend three nights on Ossabaw Island learning and creating "tintype" photographs.
Ossabaw Island Tintype Photography Workshop Weekend
Date: Friday, January 13, 2023 – Monday, January 16, 2023
Times:
Depart 3:00pm Friday (arrive Ossabaw at 3:30pm)
Depart Ossabaw Island 11:00amMonday (arrive about 11:30am)
Workshop size: Maximum six (6) participants and up to (6) non workshop guests: We welcome up to six friends to come for the long weekend and not participate in the workshop.
(photo credit: Robert S. Cooper. Ossabaw Tabby Cabin. (tintype image) 2017.)
Overview: A workshop for experienced photographers who want to learn about the wet-plate collodion or tintype process. Led by Robert Cooper, an experienced tintype photographer based in Savannah. The North End of Ossabaw is the ideal setting for this workshop. Since part of the process must be performed in total darkness, having access to the darkroom facilities on Ossabaw is a great advantage.
Friday afternoon/evening will be an overview of the process and discussion of the materials used as well as a quick primer on handling a large format camera. Attendees will be able to choose from three formats, 9×12 cm., 5×7 in. and 8×10 in.
We will start hands-on pouring plates and learning about exposure on Saturday. Everyone will get hands-on experience shooting a still life and then move on to portraits. There will be ample opportunity to explore creative ideas both Saturday Sunday. We will finish up varnishing the finished plates so that everyone will have something to take home. Monday morning will be time on your own.
Cameras will be provided, but attendees are welcome to bring their own large-format cameras so long as they are in good working order. Plates and chemical supplies are included in the cost.
A tintype, also known as a melainotype or ferrotype, is a photograph made by creating a direct positive on a thin sheet of metal coated with a dark lacquer or enamel and used as the support for the photographic emulsion.
(Sample tintype images shown below)
Robert Cooper's bio: A native Savannahian, Robert spent 20 years as a photojournalist at newspapers in Georgia and Florida. In 2012, he moved back home and began working as a freelancer and opened a studio in 2017. His clients include Google, The New York Times, Time and The Washington Post, and The Ossabaw Island Foundation. He also shot the photographs for a cookbook published by Houghton Mifflin, Dora Charles: A Real Southern Cook in her Savannah Kitchen.
Robert's lifelong love of photography led him to begin working in alternative photographic and printing processes especially those involving large bellows-type cameras. He has led workshops on tintype photography for local schools including St. Vincent's Academy, and has taught individuals and given demonstrations at his studio.
Description of the weekend:
• Friday afternoon, arrive on Ossabaw, settle in to your accommodations. After dinner, some introductions and discussion about photography/Ossabaw Island artists/what lies ahead for Saturday and Sunday.
• Saturday and Sunday are instruction days. Participants will have time to make more of their own tintypes as a result of having learned how to do it on Saturday.
Monday Participants pack up and depart late morning.
Fees include:
• Round trip transportation from the mainland to Ossabaw Island
• Nine freshly prepared meals: Friday dinner, Saturday and Sunday breakfast/lunch/dinner, Monday breakfast .
• Accommodations: choose from The Boarding House, the Club House, or BYO-tent camping. Pricing reflects housing differences only.
• Tintype instruction, supplies, equipment use.
Participant experience: This course is intended for photographers who have a basic understanding of exposure and camera use. Three different large format cameras will be used (different sizes). Not recommended for novice or first-time photographers.
Registrants will receive a detailed email outlining departure location and time, what to bring, and more.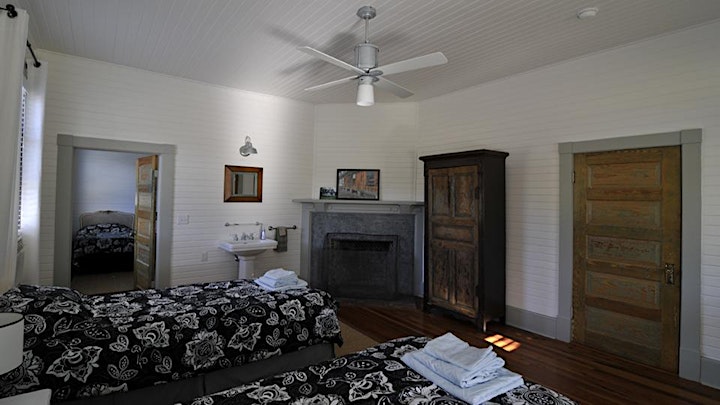 The Boarding House is located on Ossabaw Island's north end and is a restored 1918 Craftsman bungalow. The Boarding House offers comfortable semi-private accommodations. Accommodations are in semi-private rooms with shared bathrooms. Single room (no roommate) available for additional fee.
Camp on Ossabaw in your own tent near the Boarding House & Club House, with full access to rest rooms/showers.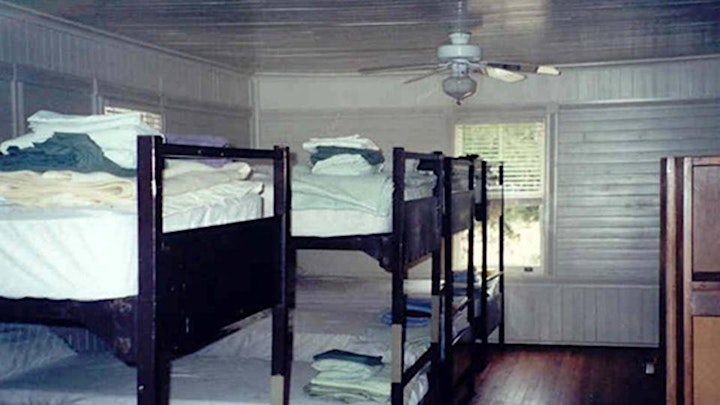 The shared accommodations and bathrooms in the dormitory-style Club House on Ossabaw Island. Pillow, sheets & towels, and blanket provided.